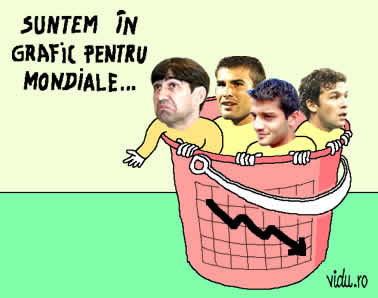 Nu prea ma mai uit la fotbal ( foolball?) de ceva vreme. În România nu mai am ce vedea, iar de afara nu prea ma mai atrage. Încerc sa spun intr-un fel sofisticat ca mi se rupe pula de fotbal.
Nu sunt de vina jucătorii, care de un deceniu nu mai mișcă nimic, nici patronii și arbitrii ca au trucat meciuri, nici DNA-ul ca a băgat patronii la bulau.
Nu.
De vina sunt aia de la știrile sportive ca de fiecare data când era despre fotbal, era de fapt despre băutura, femei, caterinca, fițe și injurii.
Și am început sa citesc mai de libertatea și can can, ca măcar aia sunt specialiști pe temele astea.
Oricum, chiar și cu asta tot eram întâmpinat prin tari străine cu:
-Aaaa, România, Hagi, Popescu și Ceaușescu.
Intre timp ăștia mai tineri nu au mai știut de Ceaușescu și au rămas doar aia doi.
Nu vreau sa fiu înțeles greșit, n-am nimic cu ăștia doi. Bah, aia chiar jucau fotbal. Ca e discutabil cat de zei erau ei, ok, dar fotbal jucau. Doar ca, mai da-va în pula mea de străini dar voi numa' fotbal știți.
Bine, nu ca ne-am remarca cu altceva. Sau, as putea nominaliza eu câțiva prieteni remarcabili, dar nu e cazul sa spun asta acum sau alta data.
Cert e ca de câțiva ani nu am mai auzit nimic. Adică eram la modul:
-De unde?
-România.
-Unde e aia? Aha bine.
Foarte mulțumit am fost ca s-a terminat și cu fotbalul și nu ma mai asociază lumea cu Hagi, ca zău, joc fotbal ca o cizma, iar lumea are așteptări pe unde ma duc. Și ii dezamăgesc gen " You're no Hagi, or Popescu".
Normal bah, nimeni nu mai e, nu-s doar eu. Noi cu băutura, femei, panarama, mai subțire cu sportul.
Știu ma, mai e Lucescu, dar lumea nu are Atâta cultura fotbalistica sa știe și antrenorii, deci eram scăpat.
Cand ma dau jos în aeroport în Zanzibar și ma întreabă ala de la security de unde sunt, zice:
– Aaaa, I saw România long, long time ago at the world championship of football, but not anymore.
Gandesc: Ha, fraiere, te-am făcut. Pula Hagi și Popescu.
Ii zic:
-We got lazy!
Eu zâmbesc, el rade. Nevasta-mea da sa zică ceva de patroni și pușcărie. O trag după mine. Fără discuții de infractori de fata cu poliția. Adică, sa nu vorbim de funie…
Si-mi zic în barba ca mai vin aici ca ăștia n-au auzit de România.
Pana în seara asta la masa când ma întreabă un puștan localnic, care servea la masa, ca de unde sunt.
Ii răspund fără griji, ca sa îl aud:
-Aaaaa, Adrian Mutu!
Stau asa și ma gândesc: Ba, ești prost!
Era mai bine cu Hagi. Și cu Ceaușescu. Acu' tre' sa mai treacă zece ani. Și ma gândesc, cat pula mea trebuie sa îți placa fotbalul ca sa știi de Mutu și auzi aici " Dinamo București ( ba ești prost!?), tu locuind în Tanzania.
Dar lasă, ca în urma lu' Mutu chiar nu mai e nimeni, cel puțin eu nu mai știu. Deci peste 10 ani, ma aștept la 10 ani de liniște.
Sper sa se interzică fotbalul. Sau mai bine nu, ca pe urma casunati pe mine ca pe Charlie, ca proștii nu știu de gluma…
Send to Kindle