Am renuntat sa mai fumez prin 2005, daca nu ma insel, in circumstante pe care nu le voi detalia acum. Mi-am spus atunci ca iau o pauza . Dar, la batranete ( nu stiu sa zic o varsta , dar cand am sa simt eu ca sunt pe duca (daca nu mor subit) ) vreau sa ma apuc iar de fumat , cu siguranta de tras pe nas  si bautura la greu – numa' spirtoase.
Inca am (sper , ca altfel nevasta trebuie sa-mi ofere ceva explicatii) acasa ultimul pachet de Kent 8 ( nu stiu cum i-o mai zice acum) inceput. Ca pauza , inseamna ca atunci cand se termina sa o pot lua de unde le-am lasat , nu?
Nu vreau sa va spun ca fumatul e naspa si sa va explic cum sa va lasati de fumat in postul asta pentru ca putin imi pasa daca muriti de la tigari , daca  mirositi ingrozitor sau nu , daca ramaneti saraci , daca va simtiti bine sau daca va plac dintii galbeni. Mi se rupe.  Nici nu vreau sa fiu ipocritul care s-a lasat de fumat si acum o arde cu "vai ce mult ma deranjeaza fumatorii". Fireste , daca vii in casa mea si aprinzi tigari , sau in masina , te infig cu dintii in calorifer , sau in bord, dupa caz .
Altfel , mi se rupe , chiar imi place uneori mirosul de tigari. Altceva vreau sa zic: Ca era ok fumatul pe vremea aia. Nu te hingherea nimeni pe nicaieri sa te lasi ca sanatate si poluare si drepturi si plm. Sau asa imi place mie sa imi aduc aminte. Si pachetele de tigari aratau misto, Ala de care spun e chiar  frumos. Lumea colectiona pachete de tigari. O mai face cineva astazi? Ai vrea sa faci un robot din pachete  tigari , cand pe 30% din suprafata lui ar scrie "cancer" sau ar avea poze macabre? Tre' sa fii cumva bolnav  sa vrei faci asta. Cred ca mi-ar fi si rusine sa scot asa ceva din buzunar. Daca un cetatean de pe alta planeta sau de pe planeta asta , care a sarit in timp vreo  30 de ani ar vedea cu scot fumatorii relaxati, eventual imbracati la costume , cu ceasuri scumpe la maini,   pachetele cu tumori sau scheleti  sau oameni mumificati desenati , din buzunar, ar urla sigur ceva de genu: "What's wrong with you, people? " – ca ar fi american , normal.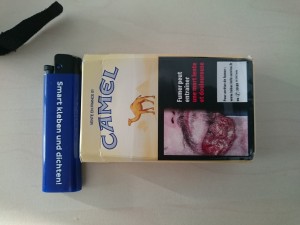 ***
Un francez isi lasa pachetul de tigari pe masa cum vedeti in poza asta care-i asa de scarboasa ca a trebuit s-o adaug dupa ce am dat share la articol, ca mi-e groaza sa apara featured in facebook. Si-l vad acolo in timp ce mergeam sa mananc. Frate , dac-as fi  BT , Philip Morris , sau cine dracu' mai face tigari Camel cu  tumori pe ele  as pune in pachet, inauntrul lui , un carton desenat misto pe o parte cu un negru cu pula mare , pe cealalta  o pizda dezbracata cu ditai baloanele , sau macar  ceva alb cu care sa poti acoperi hidoseniile alea. Ce fel de strategie e asta?  Sa-mi bag… Imi asez matele la loc si-l intreb:
-Mate , I know it is now a law everywhere in the civilised world  to have such creepy pictures on cigarettes packs and I have no illusion that people will quit smoking just for that , even though I couldn't smoke looking at it,  but didn't it come to your mind that you could use a shiny metallic cigarette case , or at least cover that thingie ?
– Cigarette cases are for gay! Nobody uses these today.
Si-i zic:
-Sounds legit, but how can you smoke looking at that? It's like having the picture of a baby on a condom , or in the lighter version – some guy with syphilis depicted on. I know the purposes are vice-versed, but it's still an example of inhibitor.
La care el:
– Oh , get out of here. It doesn't work that way. Are you even not having sex without a condom?
– I see your point , but it's only with one woman and I am married.
– So , ok , one woman without , all others with. You know , one it's all it takes…
– What other women? I said "married" and may I remind you I am not french ? And by the way , we were talking about cigarettes here!
– Oh ,yeah! Wait! Since when are you married ?
– Can't remember, exactly, I am the husband .  I think it's been  around 7 years since  I am " married – married " , but we live together since , maybe 10.
– And were you… even before being married ?
– Umm …. I have the feeling that I am not gonna like what  you're going to say.
– Exactly the way I don't like your opinion on my  pack of cigarettes, but I gotta tell it to you anyway : " You're such a nerd! ".
– Well, that's obvious . I'm fine with it.
– Now , what do you want with my cigarettes ? I don't even take the pack  out with me when I smoke . It's creepy!
– No shit! But you let it here with this "Rembrandt" on top of it.
-Oh yeah. You're right . Here! Problem solved.
Si intoarce pachetul pe partea cealalta pe care scrie :
"Fumer maux les autres personnes aussi."
Much, much better, tre' sa recunosc.  Putea sa scrie si-o injuratura de mama acolo. Nu ma afecteaza. Daca n-o vad pe mama desenata indecent pe pachet , e ok.