E siteul ăsta de umor. Cotidian Zilnic, ii spune. Nu îl știam,  l-am găsit la piticigratis pe blog într-un articol despre calitatea presei românești.
E drept că textele nu sunt așa ușoare ca alea de pe tnr,  nu-s pentru orice prost și nu râzi neapărat în hohote, dar sunt unii care nu se prind că e bășcălie si-o tot halesc și-i dau cu critica.
Gen, primesc linkul  ăsta pe facebook.
Era inițial distribuit de Moise Guran ca o ironie la faptul ca textele umoristice ale lu' Eftimie la TNR sunt prea simple, practic un titlu și o poză, în timp ce unii mai și scriu.
Știu că dacă citești prima oară articolul dă impresia ca e într-o nota serioasa, dar dacă nu ești retardat îți dai seama ca de la sintagma "cotidian zilnic" ceva e în neregulă.  Ce fel de ziar serios ar avea numele de cotidian zilnic.  Bine,  la ce presă a rămas e și asta o posibilitate.
Dar apoi articolul continuă descriind personajul fictiv un anume președinte al unei grupări neocomuniste având acronimul FISTING. Gen, hai ba chiar așa?
Și continuă numai în ironii fine inclusiv descrierea celor 12 obiceiuri zilnice ale tânărului neocomunist, care se încheie programatic cu o laba regulată de eliberare a stressului,  trasand fin beneficiile comunismului "at the end of the day".
Mie mi se pare un text bun.
Ce te faci ca nu există public pentru asta și că proștii ies la suprafață precum căcatul în lighean cu dume ca ăstea :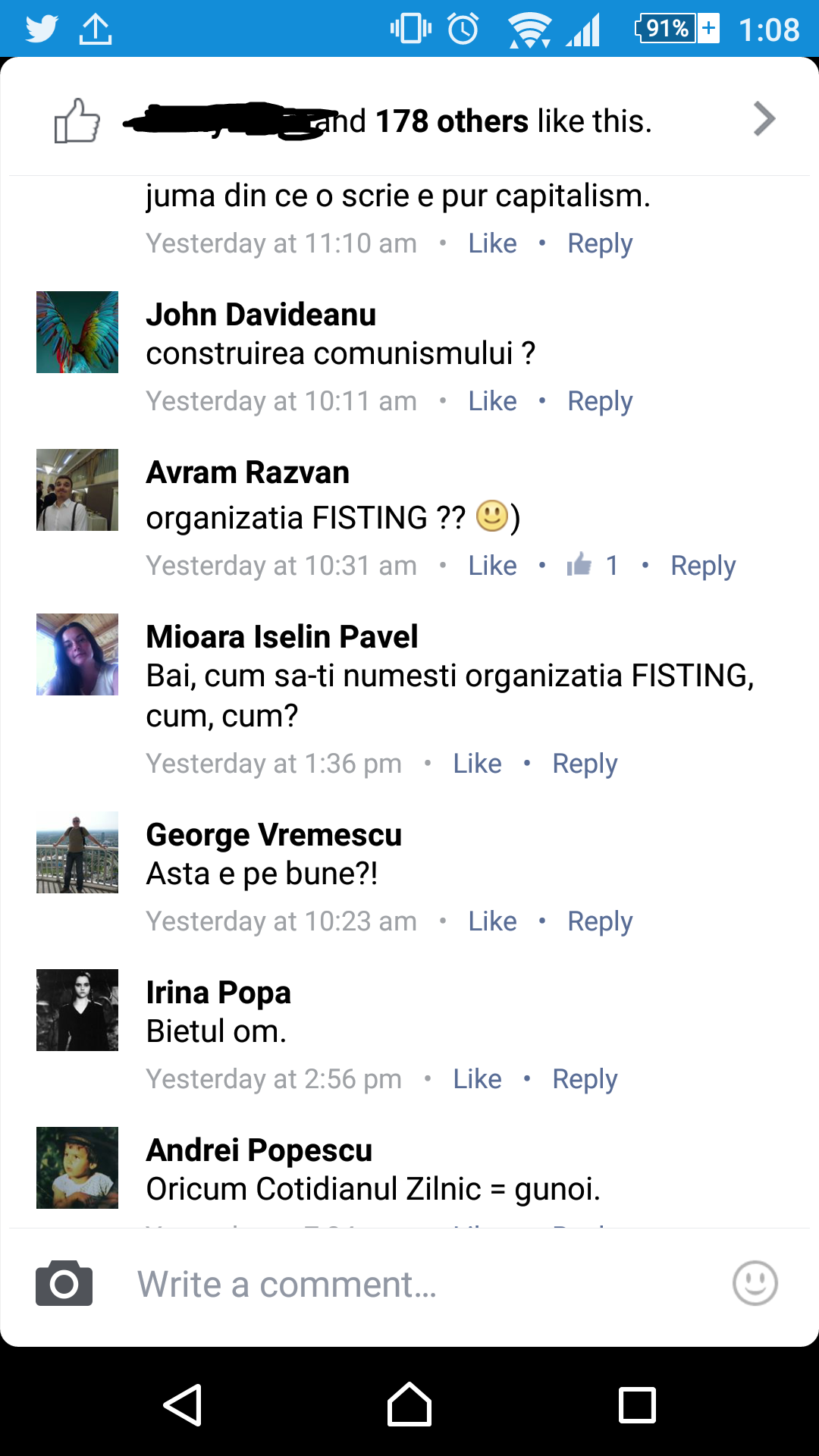 E rușine sa știi să citești și să fii adult, dar sa nu poți prinde atâta subtilitate.
Practic, sa te arunci ca rața la muci.
Nu poți sa mai faci o glumă inteligenta în țara asta că nu are cine să o înțeleagă dacă nu o explici în scris.
P.S: Mi-a atras atentia nevasta ca apare numele de facebook al celei de la care am primit articolul si ca poate nu ar fi ok sa fie public :). Am sters si am obervat si ca la 1:30 noaptea  dupa un pahar de vin sunt cam cu 50% mai dislexic decat de obicei .