La cererea publicului. CSF.NCSF
Deci să scriu iute despre asta. În grabă fiind, că m-am întors din vacanță pe 9 decembrie am comandat ca și anul trecut de pe amazon, cu promisiunea fermă că ajung înainte de Crăciun. Și au ajuns, inclusiv nefurat nimic din ele. Cu UPS. Nu mai lucrează același om care mi-a adus deunăzi niște chestii lipsă.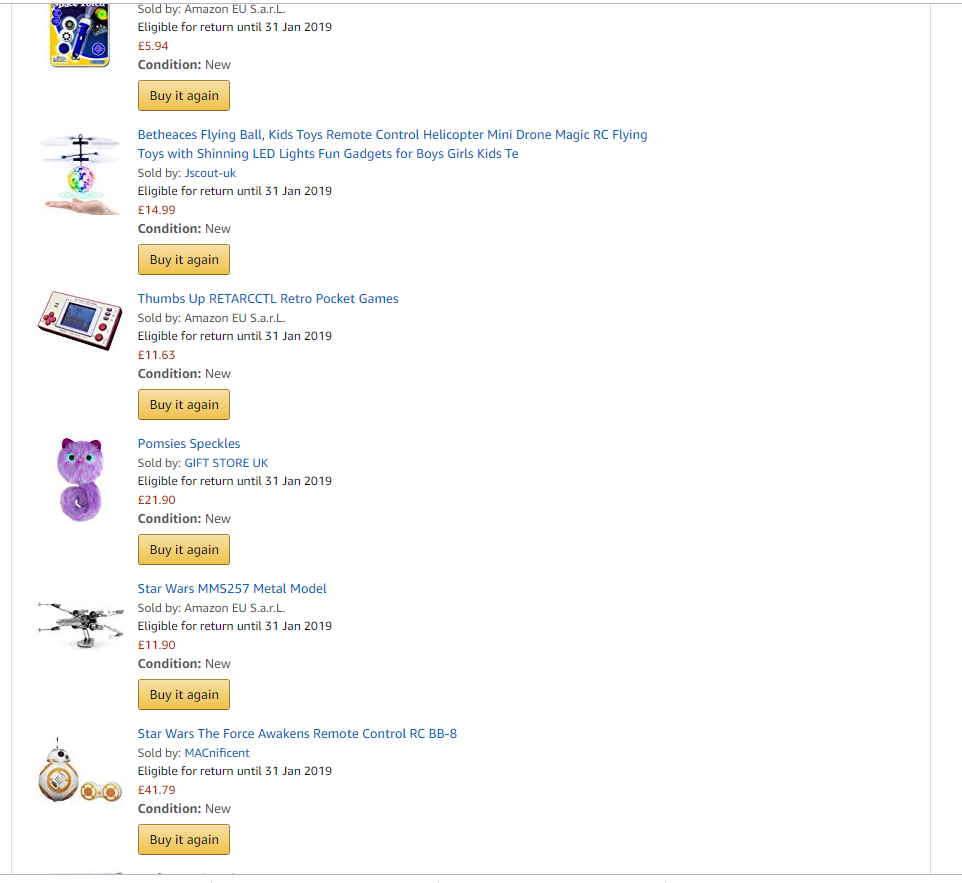 Lista e mai lungă decât încape în poză.
Pe scurt, voiam să-i iau copilului celui mare, voia ea adică, BB8 de la Sphero. ( Copiii mei știu că eu sunt moșu' – am mai zis ca nu accept să-mi ia un necunoscut ipotetic meritele pentru cadouri) . Se livra după anul nou și se controlează cam dificil din telefon, tabletă. Nu e deloc așa simplu ca în reclamă. L-am luat pe ăsta cu telecomandă pe el. A fost wow vreo 2 zile, acum zace prin casă. Merge încet ca un boșorog .
Metal modelul de nava StarWars e ce scrie pe el dintr-un fel de plastic care arată ca metalul.
Pomsies Speckles este ze shit pentru copiloi de 4-7 ani. O pui la mână și miaune, i se aprind ochii, din astea.
Thumbs Up RETARCCTL Retro Pocket Games e chiar o chestie tare pentru boșorogi ca mine, da-i place și celei mari. Știți jocurile alea din anii '90 cu sanki 100, sau 888, sau 999 jocuri, dare erau 2-3 care se repetau? E ăsta are 150 de jocuri unice, cu grafică din aia de căcat, chiar jocurile arcade vechi. La 60 de lei e chiar șmecherie!
Betheaces Flying Ball, Kids Toys Remote Control Helicopter. Ăsta e cam mizerie așa. Nu prea se controlează bine și se lovește de toate alea. S-a jucat copilul mic vreo câteva minute cu el și aia a fost.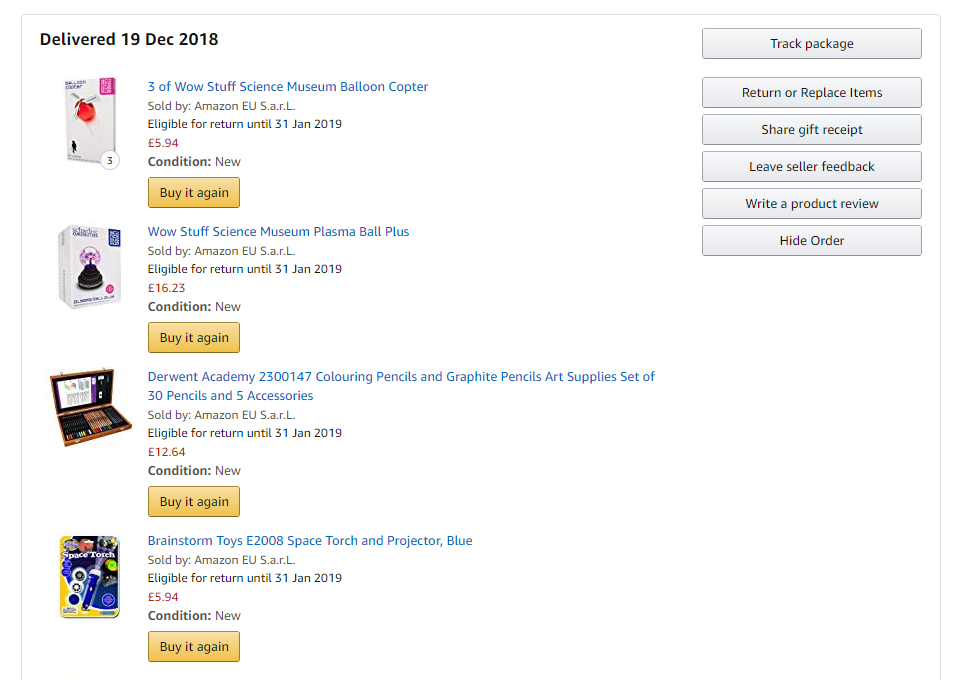 Brainstorm Toys E2008 Space Torch and Projector. E o lanternă cu diapozitive. Diapozitvele sunt mișto, sunt mai multe modele și teme. Merge, de 6 lire.
Derwent Academy 2300147 Colouring Pencils and Graphite Pencils Art Supplies. Băi cutia aia de creioane chiar are calitate înauntru. Merită banii ăia. De obicei mai cumpăr creioane din aeroporturi, din ălea Faber Castel – mai scumpe și bune și alea, dar nu așa de bune ca ăstea.
Wow Stuff Science Museum Plasma Ball Plus. E fix ce spune numele. U glob din ăla cu plasmă care se poate alimenta la USB sau pe baterie. Le place la copii, dar tot așa , se plictisesc repede.
Balonocopter, sau "Wow Stuff Science Museum Balloon Copter" . Locul 2 la cele mai inutile chestii cumpărate de Craciun.
Send to Kindle