Am să merg săptămâna viitoare în UK, pă biznis.
Am treabă vreo două zile in Reading.
Am luat avion in Gatwick, seara mișto, cu pretenii de la Wizz, mă așteaptă un coleg să luam o rablă ( sper că o conduce el) și să mergem la treaba noastră.
Și mi-a zis el ca a găsit el nu știu ce ofertă bună de hotel pe Hotels.com. Sincer, mie-mi sună bine din principiu "hotels.com", că plătește clientul cazarea, noi fiind amândoi consultanți, iar la 10 nopți rezervate prin site-ul ăsta, pac , o noapte gratuită ( adică, un voucher de media costului celor 10 nopți).
M-am uitat așa fugitiv la ce-a propus ( eu voiam să iau ceva mai ieftin, că-s "cinstit", dacă fac eu profit, să facă și firma, să fie bine la toată lumea) și-am zis că e boierieeee. El fiind managerul de proiect, el aprobând costurile, am zis "da, taică, cum să nu, acolo mergem!"
Locanța e asta. Deci dacă vreți să mă bateți și nu știți unde să mă găsiți, săptămâna viitoate mă puteți aștepta în față acolo.
Totul bine și frumos până încep ăia cu mizeriile .
Hi Catalin,

Thank you for your booking through Expedia/Hotels.com for 100 Kings Road apartments and we hope you will enjoy your stay with us at House of Fisher.

As you have booked a self check in property, we will require a copy of valid ID before we collect prepayment for your reservation. Please send us all guests ID to us via email and it must be a valid passport or driving licence. For security purposes, your ID must match your payment details and the main guest details given on Expedia/Hotels.com

Once we have received your ID, we will send you a hyperlink to click on, which will take you to a 3D Secure webpage to make payment for your reservation.

As mentioned on Expedia/Hotels.com, this will also include a £150.00 refundable deposit. This deposit is returned to you once your keys are returned and your apartment is checked following your departure.

Should you have any questions, you can contact us anytime on 0118 951 41 51.

Should you be staying on business, send us an email from your corporate account and we can waiver these requests for you.

We look forward to hearing from you soon.

Kind Regards,
Am vazut treaba aia cu "Should you be staying on business", dar astia insista sa le trimit acte pe mail. GDPR-ul pizdii. Ok, trimis o copie alb negru.
Dupa care revin cu :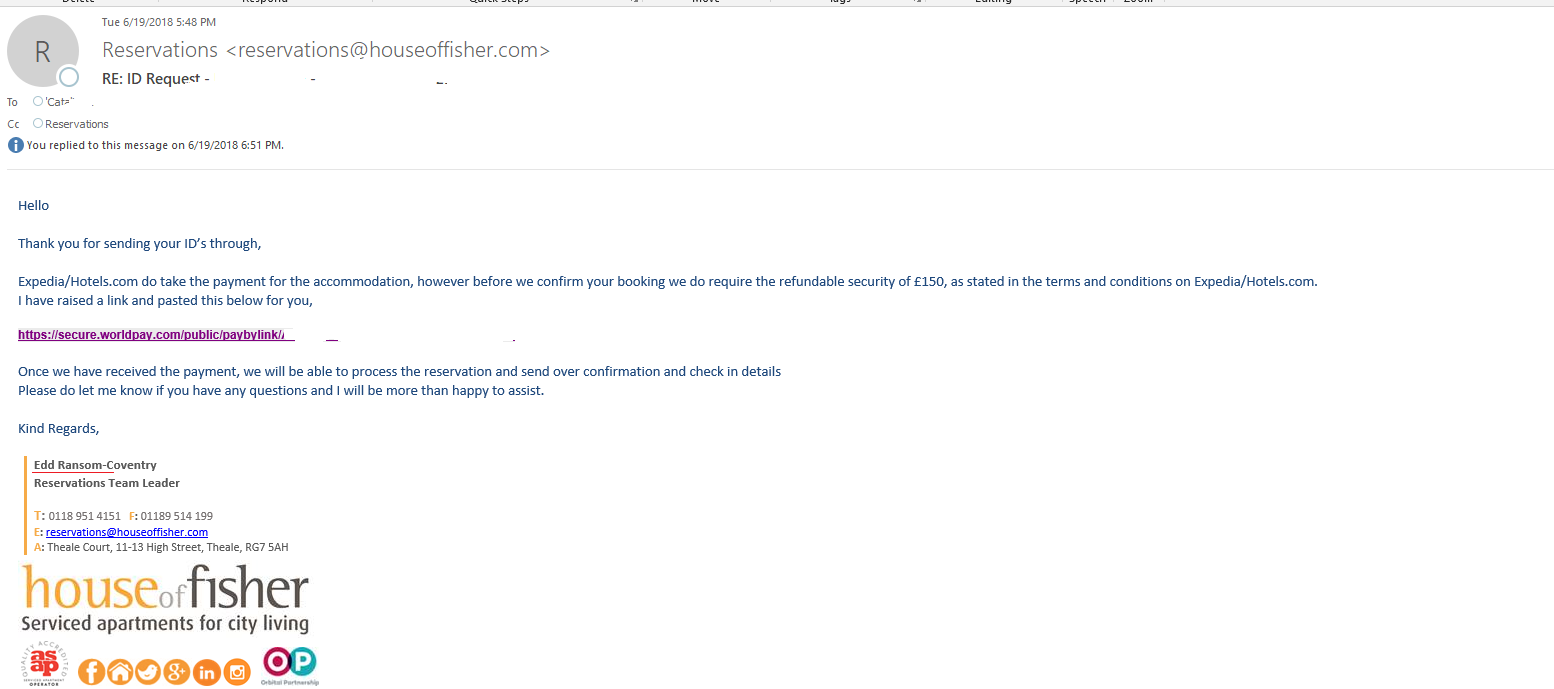 Si mă uit la linkul ăla de plată. Certificat ok, 3 cookies, pula urmă de GDPR, copyright 2012. Si blogul meu iși updatează singur mizeria aia cred. Toate datele in GET, uite-le frumos in URL, pula mea si ultimul programator puscat stie sa nu mai faca asta in zilele noastre.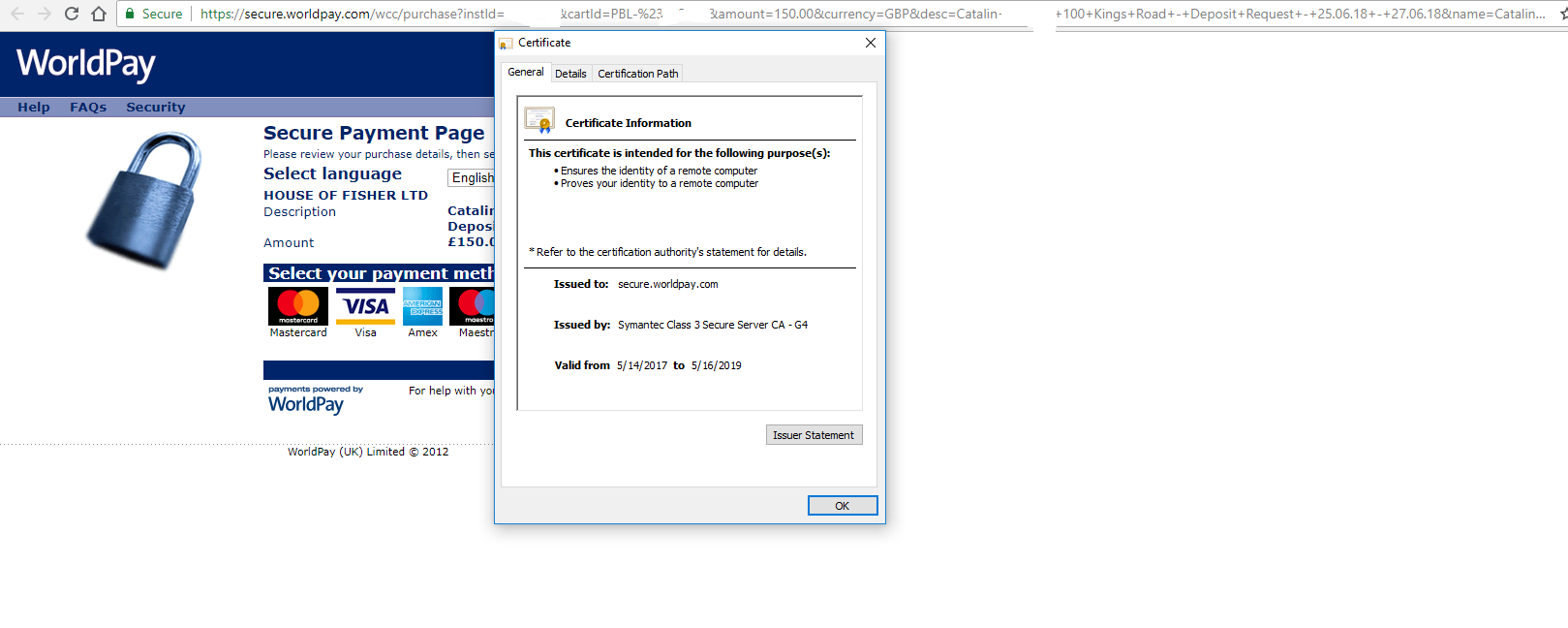 Nu merge sa schimbi chiar ca gâscanul datele in URL, ca are ceva semnatura MD5, dar nu e bai, ca pot rehășui URLul ăla dacă aș avea timp de așa ceva, doar că la ce bun.

Site-ul ăstora are ca registrant PERFECT PRIVACY, LLC. Florida, lol. Macar sunt inregistrati de mai mult timp. Nu stiu daca ati observat in mail ca pe tipul ala care mi-a scris ultimul il cheama Edd Ransom :))).
Domain Name: HOUSEOFFISHER.COM
Registry Domain ID: 7861181_DOMAIN_COM-VRSN
Registrar WHOIS Server: whois.networksolutions.com
Registrar URL: http://networksolutions.com
Updated Date: 2017-12-20T20:17:17Z
Creation Date: 1999-07-09T10:39:06Z
Registrar Registration Expiration Date: 2019-07-09T10:39:06Z
…
Au certificat la site-ul lor de la letsencrypt, ca săracii. Dar vor garanții de la mine.
Eu i-am zis ăstuia "bă, hai să căutăm pe alții, că ăștia cam put". "Nu, că dacă se întâmplă ceva plătește proiectul".
"Păi și noi unde dormim, mă?"
Pula mea, o las ca el , să fie "a project experience", dar cred c-o să-mi iau o pătură cu mine… E amuzant, trebuie să recunosc.
Well, Pentru că sunt un maniac și nu am somn până nu caut eu și în cur și ar fi rușinos să fiu eu scamat , am trimis pe cineva să verifice că ăștia există pe bune : )