Ăsta și mai am unu pe țeavă. Anul trecut deschideam sezonul ginului cu Sipsmith, unul care mi s-a părut atunci șmecherie – chiar e, față de ce bei în general prin cârciumi ( Beefeater(jeg) , Tanqueray, Finsbury ( alt jeg ) , Bombay Sapphire, sau Hendricks ( ăsta e classic, cinstit, și poa' să fie bun, dacă e unul din sortimentele speciale). În cârciumi spălate, nu bodegi romulanești unde bagi Wembley ( cel mai jeg, un fel de Mona ) .
Anu ăsta în același sezon de grătare și gin, plus izolare de data asta, de când ne-am întors in UK, am căutat altul cu care să împrospătez gustul, ceva mai altfel, mai pe antidepresiv, mai pe analgezic așa.
Și găsit unu super calmant , mai la 50 de grade așa; 50,2 fix – îi spune Marylebone ( scrie Mary le Bone be sticlă) de la cartierul din Londra cu numele în cauză, care mai departe a fost numit după o biserică , St. Mary Le Bon, care se numea așa că se afla pe malul unui pârâu (thybourne), numit și ăla după un râuleț, Tyburn – dacă vă interesează etimologia . E un pic de gimnastică lexicală aici.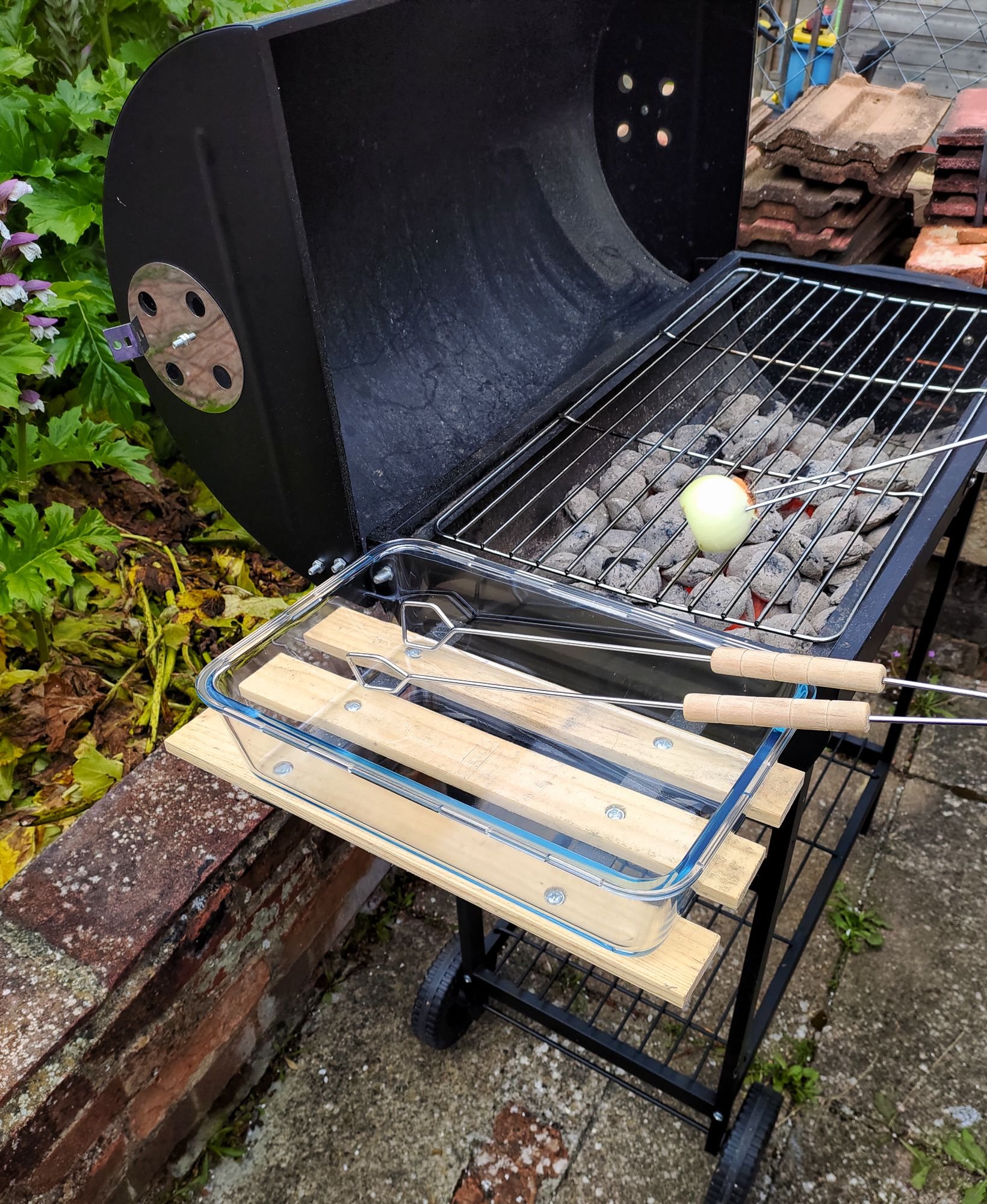 Dacă vorbim de "de ce e el bun? " Că e tare, de dacă-l bei sec te dărâmă. Am deschis sezonul cu el, de când s-a dat drumul la adunări de 6 persoane în UK și prietenul cu care ne întrețineam ( noi eram deja 5 🙁 ) a zis să torn mai mult să îl fac mai concentrat, nu chiar ca la bar – numai gheață și tonic.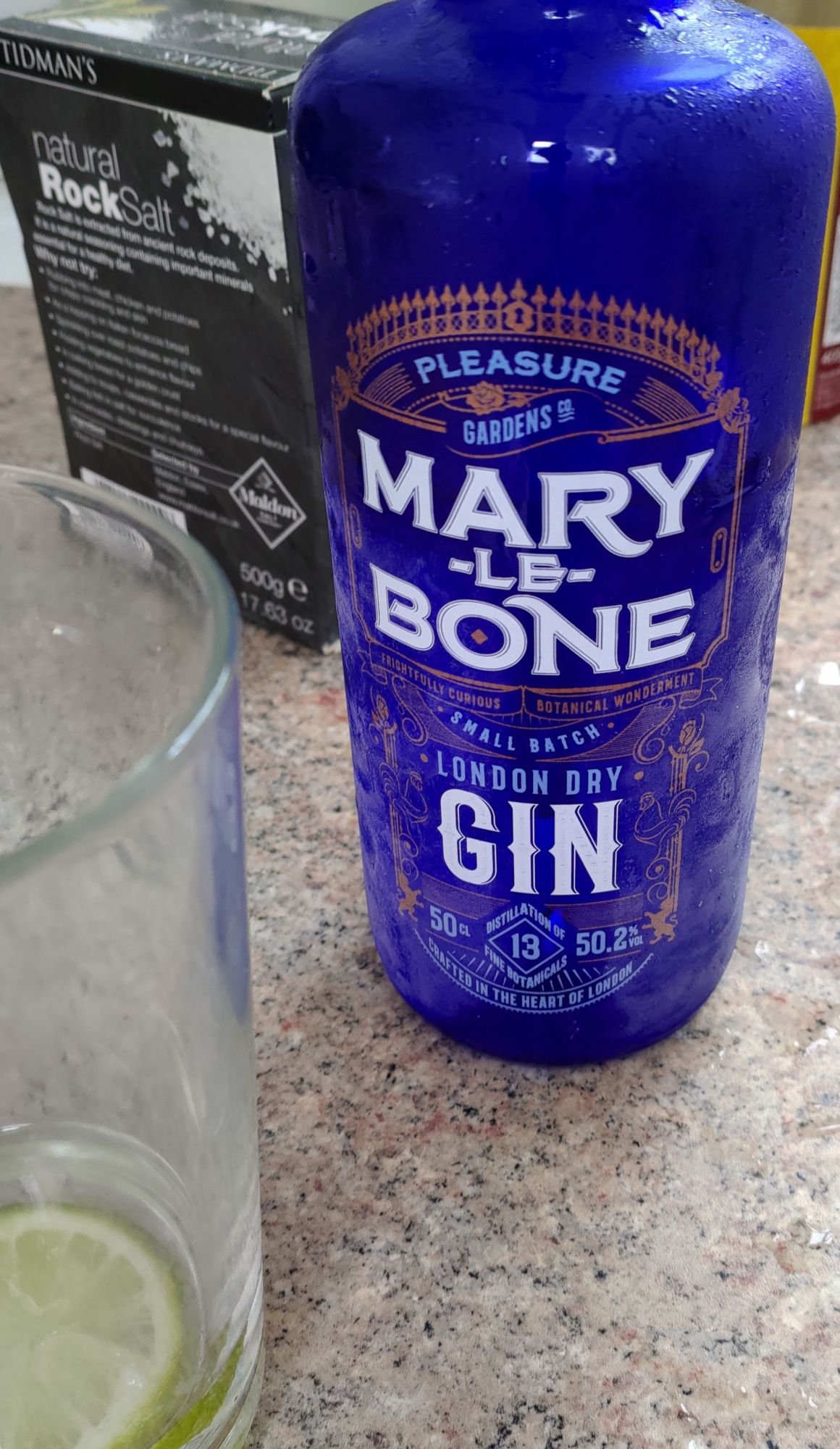 Io așa l-am făcut, că clienții noștri sunt foarte importanți aici la Catalin's Pub, nu știu cum a plecat el cu mașina acasă, presupun că e totuși antrenat, dar soția s-a declarat anesteziată, deci foarte bun ginul, un fel de rohypnol și alta nu.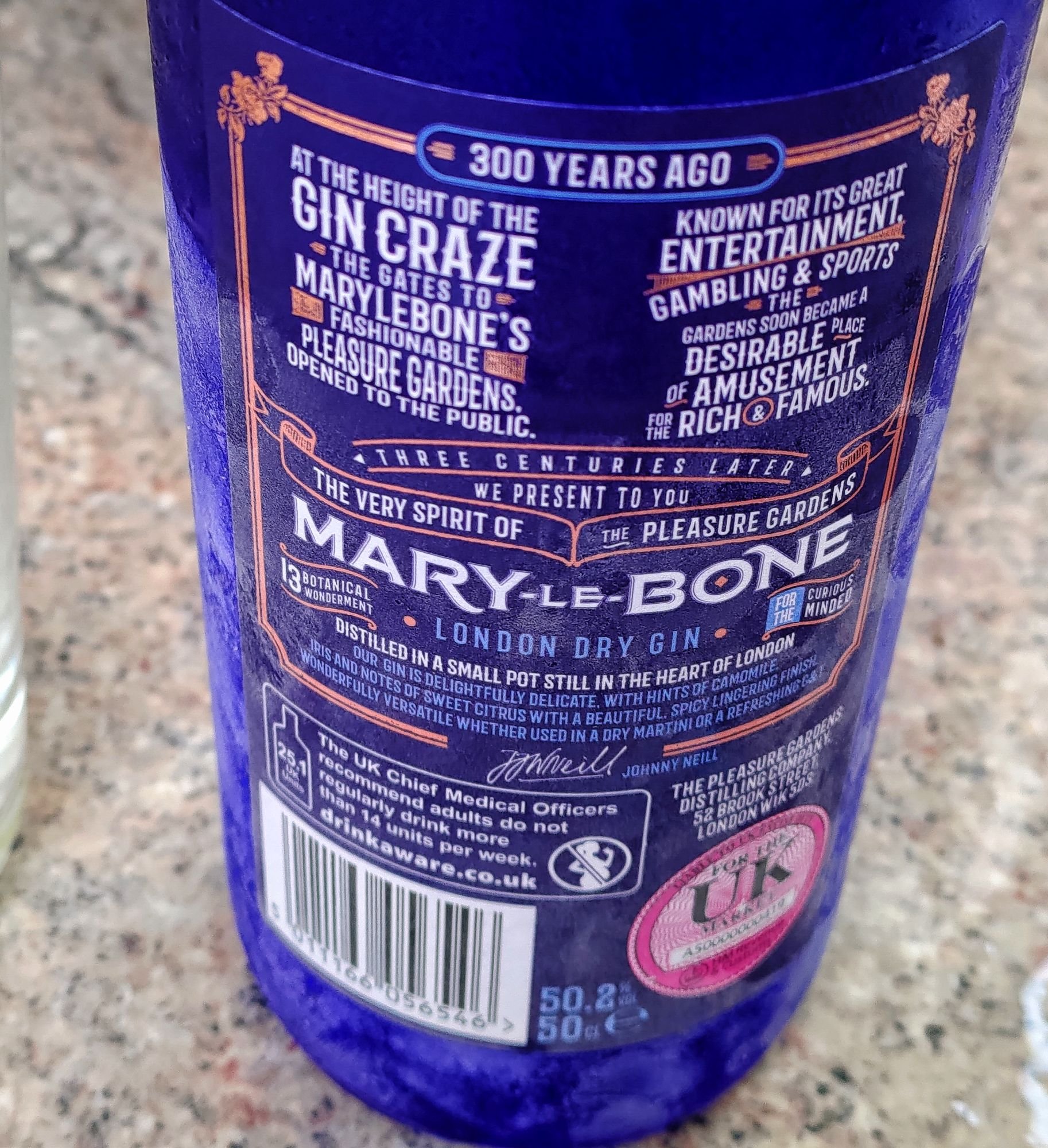 L-am ținut la congelator, da, nu îngheață :), și băi, parcă-parcă e mai bun un pic decât Sipsmith.
Cert e că și soției îi place. Am descoperit asta la o dată ulterioară, când am preparat altul, în concentrație ceva mai slabă, ceva de seară așa, și măsuram cu un pahar de cafea ( cană din sticla, din aia de latte, mai mică) , că nu am cilindru gradat, tre' să cumpăr unul.
Umplu eu măsură improvizată, torn in pahare, gheață și limă și mă pregăteam să pun tonic, la care observ soția cu o dexteritate dobândită, aproape de nativ, că toarnă tonic în măsura folosită, clătește bine, să nu se piardă nimic pe pereții paharului și apoi adăugă în micul de băut.
Păi așa! Când am ajuns in UK aproape că nici nu bea. Un an durează "from zero to hero".