Se apropie vremea la bilanturi si am deja datele pentru unu.
Lumea stie ca eu sunt mai aerian asa. Dar acum am si un bilant. M-am uitat cu un gust amar pe siteul Miles and More, ca imi mai trebuiau 3 segmente de zbor sa imi pastrez statusul de silvăr  la ei, mai imbucam si eu  un piscot gratis :D. Ehm , n-a fost sa fie. Desi cred ca au calculat ei gresit , ca am aici  49 de zboruri si doar 4 segmente ( un drum la Zurich) au fost in 2016.  Am sa ma adresez inaltei instante. Dar asta dupa ce le iau 300 de euro pe o intarziere, normal :D.
Am luat  statisticile astea doua de pe site-ul lor.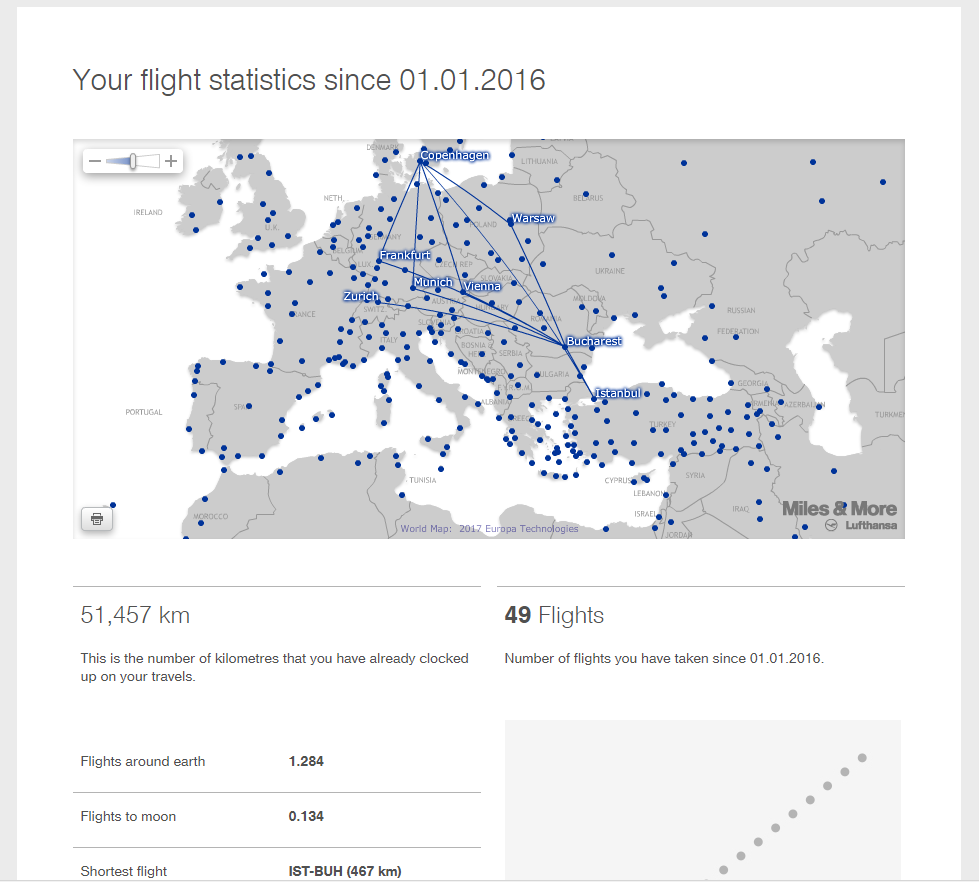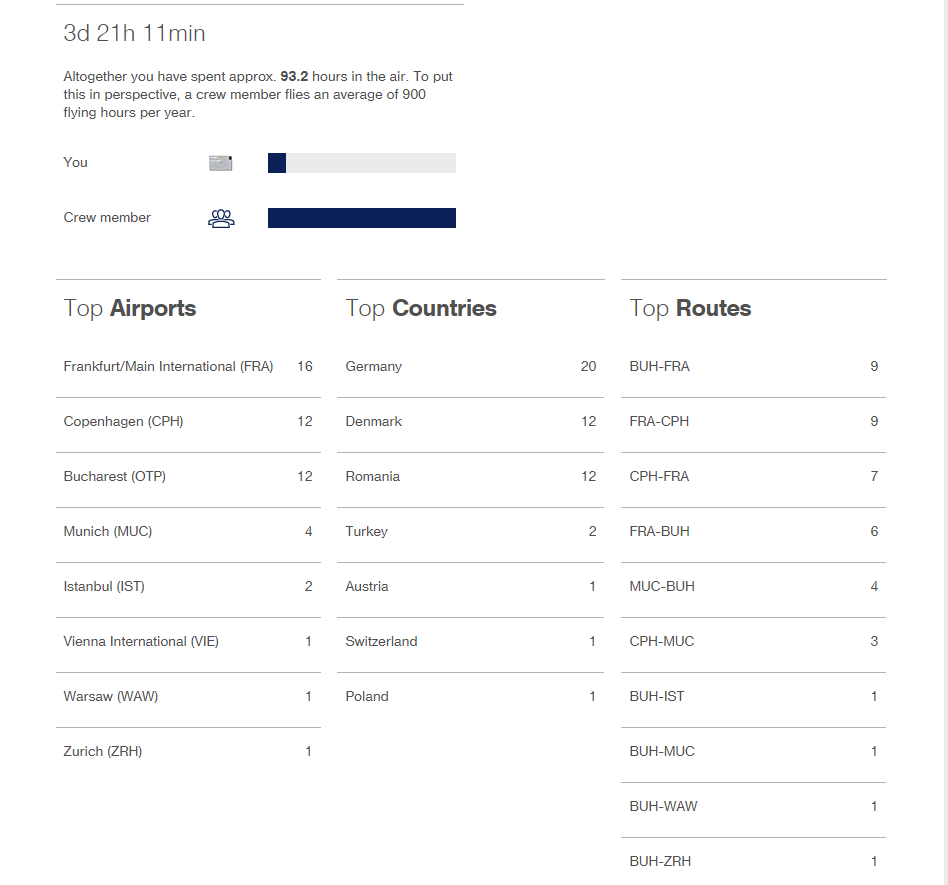 Aici e un singur zbor  catre Zurich efectuat in 2016, ca anul ala nu am zburat decat in vacanta.  Deci aveam status silver obtinut in 2015, un alt an cand am stat mai mult in aer, ca atunci eram si Gold la concurenta,  Flying Blue.
In fine, anul asta se pare ca am facut inconjurul Pamantului cu ei.  Probabil ca le-am baut o damigeana de caffee latte de la lounge.
Si am dormit 2 nopti in Franfurt pe banii lor. Adica, hotelul , masa  + 300 EUR/ ocazie. Not bad, Lufthansa, not bad!
Dar asta nu e tot!
Am vreo 5 pagini de zboruri cu Wizz de anul asta. Astia, low costi nu au statistici d-astea misto ca pe Miles and More, dar le-am luat eu la mana ca-i usor de estimat.
Am 11 Zboruri  Bucuresti – Londra si retur.  Sunt 4200 km dus intors.
Adica inca o data in jurul pamantului, inca vreo 33 de ore in aer.
+ 1 zbor pana la roma si inapoi  din Napoli vreo 3500 km si  vreo 4 ore in aer.
+ 2 Zboruri cu AF Bucuresti Paris , 7200 km si inca 12 ore in aer.
Si  mai e un zbor pana in Israel si ala e anul.
---
> 100 000 km in zbor. Cum ar veni inca 2 ani ca asta si ajung la Luna. Daca numar si ce-a fost in urma deja am iesit de pe orbita Lunii.
Partea proasta e ca am aterizat acum 2 zile si inca am urechile infundate. Plm, there is no such thing as a free meal.