XConnect.net ,companie  care activeaza in domeniul  telecomunicatii VoIP, cauta sys admin care sa lucreze remote, din Romania.  In prealabil se va zbura in  Israel pentru un training.  Specificatiile sunt mai jos. La cerere pot da mai multe detalii despre companie.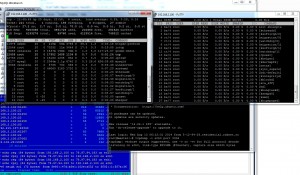 Seeking Systems Adminstrator
This would be a consulting position (as it always was with you guys) and we would fly the person in  for training.
Description:
•       Working in a dynamic environment with an operations team of highly skilled system and network engineers
•       Installation and maintenance of all hardware and software (local and remote)
•       Write scripts to overcome operational issues
•       Deployment and debugging of real time proprietary and complex applications
•       Researching, evaluating, and recommending new technologies and solutions as required
•       Office IT/Local user support
Requirements:
•       Must be a team player with initiative, and be able to see complex projects through to their completion.
•       2-5 years' experience in system administration (primarily Linux)–  supporting a 24×7 production environment
•       Excellent verbal and written communication skills in English. All internal communication is done in English.
Advantages:
•       Familiar with nagios monitoring systems
•       Mysql DB administration skills
•       Experience with VoIP
•       Familiarity with Juniper Firewalls and security concepts
        scripting in at least one language (bash/perl/python)
Please send resumes to:  itjobs@xconnect.net