Văd to mai des "anunțuri de joburi" de felul ăsta.
Practic ei plătesc 100 de dolari pe oră pentru 10 ore ( deci o amărâtă de mie de dolari) ca să dai scroll prin tick-tock. În sensul că "jobul" atâta ține – 10 ore, nu 10 ore/ zi. Dar nu angajează pe bază de skilluri, că nu prea e deficit de oameni cu degete cu care să dea scroll, ci pe bază de tombolă și preferințe. Practic ei plătesc 1000 de dolari pentru engagementul săracilor care vor da subscribe și vor comenta "fill out a form […], and do an optional tweet" cu privire la de ce cred ei că merită pomana aia.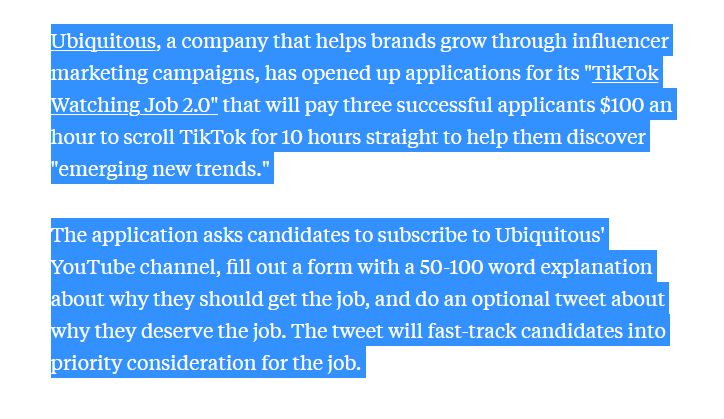 Genul ăsta de oferte sunt toxice, pentru că caută și găsesc oameni disperați să facă orice pentru o sumă însemnată, dar în același timp mică de bani.
Ce e deranjant e că căcaturile ăstea sunt preluate de o grămadă de "site-uri de știri", nu ca să le demonteze și să le dea o muie, așa cum merită, ci ca să le laude și să prezinte senzaționalul din ele.
Nu e nimic senzațional, în afară de cât de previzibili pot fi oamenii morți de foame care gândesc la modul "fac și asta, că n-am ce pierde".